A Koli (Fisher) Woman - M V Dhurandhar - Indian Masters Artwork - Framed Prints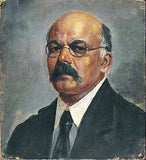 The idea of a retrospective on well-known artist M. V. Dhurandhar was first mooted in the sesquicentennial year of his birth (1867). The artist, who died in 1944, was hugely successful in his lifetime and his works covered all known genres of realistic art.
Portraits, landscapes, episodes from history and mythology, as well as mappings of social life, rendered by way of oil paintings, watercolours, drawings, sketches, and commercially popular as posters, postcards, book covers and illustrations, as well as oleographs.
A master of anatomical studies, he remained unmoved in the face of experimentation, refusing to budge from the practice he had trained in, and which he considered the purest form of art making.
View Artist Collection
---
Available Options In Framed Prints
Small Framed Print
8x12 inches
Framed with Mat
Compact Framed Print
13x18 inches
Framed with Mat
Medium Framed Print
17x24 inches
Framed with Mat
Large Framed Print
21x30 inches
Framed with Mat
Not available for shipping



---
About A Koli (Fisher) Woman M V Dhurandhar Indian Masters Artwork
A Koli (Fisher) Woman A Indian Masters Artwork By M V Dhurandhar. Mahadev Vishwanath Dhurandhar was noted Indian painter from the British colonial era and postcard artist.His illustrations of women of that era doing their daily chores are especially popular. Madhav V. Dhurandhar was born in Kolhapur, Maharashtra. He went to Rajaram High School, Kolhapur. He was accepted into J.J. School of Art, Bombay in 1890, and was student of the artist John Griffiths.He was appointed Inspector of Drawing and Craft in 1918 and served in that position until 1931. He was the Vice-Principal for two years before retiring.
About the Framed Prints
A Koli (Fisher) Woman - M V Dhurandhar - Indian Masters Artwork by M. V. Dhurandhar. Bring your print to life with three different frame colors. Each framed print comes with equal sized mat that adds a depth perspective to the entire image and a protective glass covering. Our frame prints are assembled, packaged, and shipped by our expert framing staff and shipped within 3 days in "ready to hang" condition with pre-attached mounting points.
Other options for this artwork