A Centennial of Independence - Large Art Prints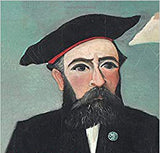 Henri Julien Félix Rousseau was a French Post-Impressionist painter in the Naïve or Primitive manner. He was also known as Le Douanier, a humorous description of his occupation as a toll collector.
Although he had ambitions to become a famous academic painter, Rousseau instead became the virtual opposite: the quintessential "naïve" artist. Largely self-taught, Rousseau developed a style that evidenced his lack of academic training, with its absence of correct proportions, one-point perspective, and use of sharp, often unnatural colors. Such features resulted in a body of work imbued with a sense of mystery and eccentricity.
View Artist Collection
Rolled
Wrapped
Framed With Mat
---
Available Options In Large Art Prints
X-Large Large Canvas Print
36x25 inches
Rolled
XX-Large Large Canvas Print
51x36 inches
Rolled



---
About A Centennial of Independence
Henri Rousseau commemorated the one-hundredth anniversary of the proclamation of the first French Republic in 1792. Peasants dance the farandole, a popular southern French dance, around three liberty trees and two female figures representing the First and Third Republics. Rousseau copied the dancers from a French magazine illustration but added waving banners, the liberty poles, and the allegorical figures. A wagon in the background is full of costumed musicians, reminiscent of parades the artist had seen. He used brilliant colours and solid forms to express the happiness of the scene symbolizing good government. To the right, the erect posture of the dignified republican leaders signals the solidity of the French Republic.
About the Large Art Prints
A Centennial of Independence by Henri Rousseau. Bring your artworks and prints to life with our extra large size products. Carefully printed on high quality materials these large size prints come with equal sized mat that adds a depth perspective (frames) or stretched on a white maple wooden frame (gallery wrap). Your product will be shipped within 4 days in "ready to frame" condition for canvas rolls and "ready to hang" condition for frames and wraps with pre-attached hanging wire and/or mounting points.
Other options for this artwork