The Women of Algiers (Les Femmes d'Alger) Version 'O' 1955 - Pablo Picasso Mastepiece Painting - Large Art Prints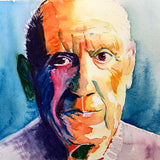 Picasso (1881-1973) was a Spanish painter, sculptor, printmaker and ceramicist.

Picasso achieved universal acclaim and immense fortune for his revolutionary artistic accomplishments; becoming one of the best-known figures in the 20th century art.

He is also known for co-founding the Cubist movement, the invention of constructed sculpture and the co-invention of collage. View Artist Collection
Rolled
Wrapped
Framed With Mat
---
Available Options In Large Art Prints
X-Large Large Art Print
36x29 inches
Rolled
XX-Large Large Art Print
45x36 inches
Rolled
X-Large Large Canvas Print
36x29 inches
Rolled
Oversize Large Canvas Print
58x46 inches
Rolled
Oversize Large Canvas Print
46x58 inches
Rolled
Oversize Large Art Print
58x46 inches
Rolled



---
About The Women of Algiers (Les Femmes d'Alger) Version 'O' 1955 Pablo Picasso Mastepiece Painting
Les femmes d'Alger (Version "O") depicted Algerian concubines in their harem with a hookah used to smoke hashish or opium.   The series based on the Delacroix 'femmes' Picasso painted during 1954–55 consisted of 14 other paintings of which this, Version "O" is the acknowledged masterpiece, joining Les demoiselles d'Avignon (1907) and Guernica (1937) on the undoubted peaks of Picasso's oeuvre. After Delacroix' death in 1874, the painting was moved to the Louvre, which is where Picasso would visit it.   Les femmes d'Alger is a phenomenon - the vast canvas is packed with references to Cubism, fractured or flat perspectives, violent colour clashes and the brilliant syntheses of Picasso's lifelong obsessions, all referenced together as a savage response to the Delacroix work and echoing Matisse in a maelstrom of colour and shattered and flattened perspectives. In the process, Picasso created a new style of painting. Version 'O' set a record auction price of $179.4 million in 2015, making it the most expensive work to sell at auction at the time.
About the Large Art Prints
The Women of Algiers (Les Femmes d'Alger) Version 'O' 1955 - Pablo Picasso Mastepiece Painting by Pablo Picasso. Bring your artworks and prints to life with our extra large size products. Carefully printed on high quality materials these large size prints come with equal sized mat that adds a depth perspective (frames) or stretched on a white maple wooden frame (gallery wrap). Your product will be shipped within 4 days in "ready to frame" condition for canvas rolls and "ready to hang" condition for frames and wraps with pre-attached hanging wire and/or mounting points.
Other options for this artwork